Game Of The Week
By Anthea Carson NN   
I read a post by James Powers that Paul Anderson beats people up in the endgame. That made me feel better about my recent loss to Paul, in which I lost totally in the endgame. I was not losing coming out of the middle game, in fact I might have even had a slight advantage.
We both had dark squared bishops. Due to several zugzwangs and some moves where I simply didn't understand what was going on, I ended up with my pawns all on dark squares and my bishop unable to get to other side of the board to protect them.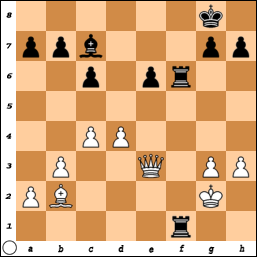 In this position, I wasted a move because I forgot that if I did manage to trade off queens he would win a pawn. This is why after I played Qe2 he played Kf7, just as I noticed the trade would leave my king one square away and unable to guard my pawn on g3. I rolled my eyes here because so many of Paul's games are won just this way. I suppose I shouldn't roll my eyes. It's a perfectly good move. It's just so Paul.
Just to clarify here, for anyone who has read Call me Jane, the second book in The Oshkosh Trilogy, and the predecessor to Thin Ice, Paul is only coincidentally the name of the character in both those sequels to The Dark Lake. Yes, Paul is dreamy, but he looks nothing like Paul McCartney and is not in a garage band.
Then I got to this position here. I had no idea what I was doing. I only knew to avoid the checkmate a couple moves earlier, but I really didn't know how to play this.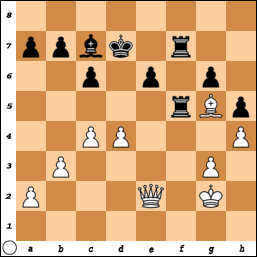 I remember (was it Larry Evans or Larry Christiansen) whoever it was that gave a talk at the Ed Levy tournament many years back where I was teased with the comment, "And here she threatens to put all her pawns on the same color as her bishop." This was an endgame position he was talking about, and from the looks of the ridiculous endgame moves to come it looks like I've learned nothing since then.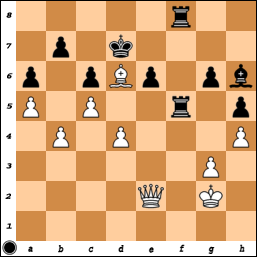 That's typical.
I'm always doing things I should know better than to do.
Thin Ice

http://www.chessvideos.tv/chess-game-replayer.php?id=82127
[Event "July Panera"]
[Site "http://cschess.webs.com/"]
[Date "2013.07.03"]
[Round "1.1"]
[White "Carson, Anthea"]
[Black "Anderson, Paul"]
[Result "0-1"]
[ECO "D02"]
[PlyCount "106"]
[EventDate "2013.07.03"]
[TimeControl "5400"]
1. d4 c6 2. Nf3 d5 3. e3 Bg4 4. Be2 Nd7 5. Nbd2
Ngf6 6. O-O e6 7. b3 Bd6 8. h3 Bh5 9. Bb2 O-O 10. Rc1 Re8 11. c4 Rc8 12. Ne5
Bxe2 13. Qxe2 Qe7 14. e4 dxe4 15. Nxd7 Qxd7 16. Nxe4 Nxe4 17. Qxe4 Bb8 18. Rfd1
Rcd8 19. Qg4 f5 20. Qf3 Qc7 21. g3 Qf7 22. Re1 Bc7 23. Rcd1 Rd7 24. Qe3 f4 25.
Qc3 fxg3 26. fxg3 Qf5 27. Kg2 Rf7 28. Qe3 Ref8 29. Rf1 Qc2+ 30. Rd2 Qxd2+ 31.
Qxd2 Rxf1 32. Qe3 R8f6 33. Qe2 Kf7 34. Qh5+ Ke7 35. Qe2 h5 36. Ba3+ Kd7 37. h4
R1f5 38. Bc1 g6 39. Bg5 Rf7 40. b4 Bb6 41. Be3 Kc8 42. a4 a6 43. a5 Bc7 44. Bg5
Kd7 45. Be3 Bd6 46. Bd2 Re7 47. Bg5 Re8 48. c5 Bf8 49. Bf4 Bg7 50. Be5 Bh6 51.
Bd6 Rg8 52. Be5 Rgf8 53. Bd6 Rf2+ 0-1
This Week In Chess
On July 9th, the Colorado Springs Chess Club held Quads (RR, G30).  The players were split into 2 groups of 4 players for a USCF-rated event. 
I created a raffle for the $10 gift card.  Each player who scored points in the 2nd quarter received that many tickets.
Here are the results:
Tickets, Player

32 Isaac Martinez
21 Mark McGough
17 Mike Madsen
11 Joe Pahk [WINNER]

7 Gunnar Andersen
7 Alex Torres
7 Kevin Kaaoush
7 Tom Richardson

Gunnar Andersen and Isaac Martinez tied for the top spot in the higher quad, and Mark McGough went unbeaten to win the 1st place points in the lower quad:

Here are the results:
Score, Player
Quad A

2.5 Gunnar Andersen
2.5 Isaac Martinez
1.0 Tim Brennan
0.0 Joe Pahk
Quad B
3.0 Mark McGough
2.0 Alex Torres
1.0 Kevin Kaaoush
0.0 Tom Richardson

Tuesday Night Chess Tour Cumulative and 3rd Quarter Standings
Current Standings (rank, name, total, quarter): 
1    Paul Anderson    64.50    4.00
2    Isaac Martinez    41.00    3.50
3    Mark McGough    38.25    5.00
4    Mike Madsen    24.50    0.00
5    Daniel Herman    19.00    0.00
6    Alex Torres    18.00    3.00
7    Jeff Fox    15.75    1.00
8    Dean Brown    15.50    1.00
9    Joe Pahk    15.00    2.00
10    Shirley Herman    14.50    0.00
11    Tim Brennan    14.00    2.00
12    Koji DelConte    13.50    0.00
13    Peter Grigg    12.00    0.00
14    Richard Buchanan    10.75    1.00
15    Josh Bloomer    10.50    0.00
16    Gunnar Andersen    10.50    3.50
17    Kevin Kaaoush    9.00    2.00
18    Alex Freeman    8.50    0.00
19    Tom Richardson    8.00    1.00
20    Josh Divine    7.25    3.00
21    Sara Herman    7.00    0.00
22    Eugin Pahk    7.00    0.00
23    Randy Canton    6.00    0.00
24    Brian Rountree    6.00    0.00
25    Scott Williams    4.00    0.00
26    Kathy Schneider    4.00    0.00
27    Peter Barlay    3.50    0.00
28    Joe Polanco    3.00    0.00
29    Anthea Carson    2.00    0.00
30    Mike Wanek    2.00    0.00
31    James Powers    2.00    0.00
32    Wes Smith    2.00    0.00
33    William Wilken    2.00    0.00
34    Imre Barlay    2.00    0.00
35    Laurence Wutt    2.00    2.00
36    Rebecca Herman    1.50    0.00
37    Mike Toth    1.00    0.00
38    Buddy Diamond    1.00    0.00
39    Curits Holsinger    1.00    0.00
40    Evan Baron    1.00    0.00
41    Teppei Monjiyama    1.00    0.00
42    Nicholas Wyle    1.00    0.00
43    Katie Wise    1.00    0.00
44    Joseph Stafford    1.00    1.00
45    Istvan Hornyak    1.00    1.00