Mean Streak

Friday, February 24, 2012
"Things won't change, till you open up your eyes."
(Alves, Haze, Kennemore, Meniketti)
I am back for another year of chess news and games.  During the offseason, I got hot and set my records for longest streak without a loss at 26 games (all rated games) and longest winning streak at 18 games (all rated games). 
However, all good things come to an end, and Mark McGough ended the winning streak and Jeff Fox put a halt to the unbeaten streak.  So, I decided to reward Jeff and get back into the mode of sharing chess stories.  Hope you enjoy them!

Game Of The Week

Going into the Cabin Fever Reliever, I had not lost a game in 26 attempts.  In fact, the only non-winning result was a draw to Mark McGough. 
I think what happened was that I lost a game I should have won to Dan Avery in the Colorado Springs City Championship, and I took it out on my next 26 opponents.  I don't like to lose any game, but when you play a game for 3 hours, finally break through, have a mate in 8, but blunder by giving your opponent a mate in one, it really makes you mad.  It was like watching the 85 Bears play the Miami Dolphins all over again.
So, the best thing you can do is take that anger and use it to focus yourself for the next battle. 
I was talking to Anthea Carson NN about this very idea.  She felt that she plays better when she does not like her opponent.  Winning and friendly competition just don't mix.  I could relate.  Now my favorite chess quote is:
"If you don't have a mean streak, you'll have a losing streak" (Paul Anderson, 2011).
Well, I guess I was just in too good of a mood going into the Cabin Fever Reliever.  I could not get my game face on, and I lost 3 out of 4 games.  Worst yet was the fact that I blundered away another game.  In my game against Jeff Fox, I came upon this "center">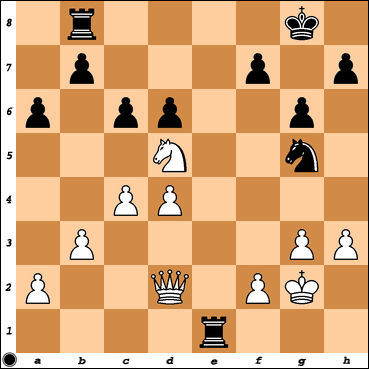 Well, I found the wrong move.  So, now I am mad again.  My next 27 opponents had better watch out!

Mean Streak
www.chessvideos.tv/chess-game-replayer.php?id=60185

[Event "Cabin Fever Reliever"]
[Site "http://cschess.webs.com/"]
[Date "2012.02.14"]
[Round "1.2"]
[White "Fox, Jeff"]
[Black "Anderson, Paul"]
[Result "1-0"]
[ECO "A22"]
[PlyCount "99"]
[EventDate "2012.02.14"]
[TimeControl "1800"]
1. c4 e5 2. Nc3 Nf6 3. g3 Bc5 4. Bg2 O-O 5. e3 Nc6 6.
Nge2 Re8 7. O-O a6 8. d4 Ba7 9. dxe5 Nxe5 10. b3 Rb8 11. Bb2 d6 12. Qc2 Bg4 13.
h3 Bf3 14. Rad1 Nfd7 15. Bxf3 Nxf3+ 16. Kg2 Nde5 17. Nf4 Qg5 18. Nce2 Nh4+ 19.
Kh1 Nf5 20. Bd4 Nxd4 21. Nxd4 g6 22. Nd3 Bxd4 23. exd4 Nf3 24. Nf4 Qe7 25. Kg2
Ng5 26. Rfe1 Qxe1 27. Rxe1 Rxe1 28. Nd5 c6 29. Qd2 Re6 30. Qxg5 cxd5 31. Qxd5
b5 32. Qc6 bxc4 33. Qxc4 Rb5 34. Qc8+ Kg7 35. Qxa6 Rf5 36. Qc4 Ref6 37. Qc2 h5
38. a4 Rd5 39. Qc3 Re6 40. b4 Re4 41. b5 Rexd4 42. b6 f6 43. b7 Rd3 44. Qc7+
Kh6 45. b8=Q Rc5 46. Qh8+ Kg5 47. h4+ Kg4 48. Qxf6 g5 49. Qxc5 dxc5 50. Qxg5#
1-0
This Week In Chess
On February 14th and 21st, the Colorado Springs Chess Club held its USCF-rated Cabin Fever Reliever (4SS, G30). Buck Buchanan went unbeaten to take home the money.  Here are the results:
Score Player
4.0 Buck Buchanan

2.0 Jeff Fox
2.0 Mark McGough
1.0 Paul Anderson
1.0 Koji Del Conte
1.0 Dean Brown
1.0 Rain Mcanany

0.0 Wesley Smith