Game Of The Week
This week's game comes from the May Panera Thursday night tournament.  It is a month-long, one-game-a-week event run by Dean Brown.  I don't do very well in these types of events, as any momentum from your wins is lost by the next round and any loss just seems to fester in your system. 
However, I think it is even harder to direct these types of events.  When Dean gets an even number of players, he sits out.  When Dean gets an odd number of players, he adds himself.  Since the event lasts for a month, things often come up for the players and byes are very frequent. 
Therefore, the winner is often the player who can just attend each week.  Of course, when Dean plays, to keep someone who showed up from getting a bye, he still has to direct.  This can be a major distraction to your play, as I have learned from running the CSCC this past month. 
So, when Dean made the most shocking move I have ever seen in tournament play, I realized there were some extenuating circumstances. 
Here is the position with Dean as white on move 15.  Bear in mind that Dean Brown is a lifetime member of the USCF and has played in close to 2000 chess games since 1991 (over 200 in the past year).  Can you find the most shocking move?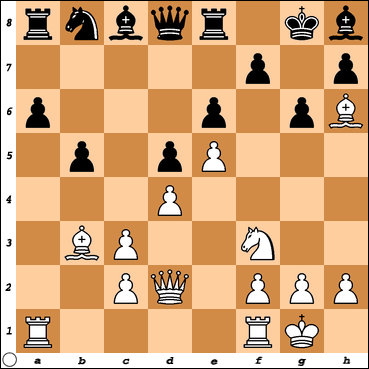 This game put Dean into a tie for 1st as my most common opponent in USCF play (26 games, Jeff Fox and Richard Buchanan).  However, his move came as quite a surprise.  Even with our long history, I never expected his response to 14...Bh8. 
He might have been eating at the time I made my last move so that he didn't actually see it, but he very calmly removed the bishop from h6 and placed his queen on that square (15. Qxh6???).
I just sat in stunned silence.  He just captured his own piece and seemed quite content with it. 
Suddenly, chess had no meaning.  I began to question everything I knew about chess.  I have never actually read the rules. 
Who learns chess from reading the rules? 
So, I couldn't say for sure that there was a rule that you cannot capture your own piece.  Plus, what is my incentive to claim an illegal move if there was a rule?  I just went from having every piece of mine on the back rank and a completely undeveloped queenside to winning a piece.
Well, I didn't have the heart to take advantage of the tournament director and one of the nicest guys in chess.  So, I asked the TD to make a ruling on a questionable move.  He gave me 2 minutes added to my clock and one of the most interesting chess stories.
Friendly Fire

www.chessvideos.tv/chess-game-replayer.php?id=66990
[Event "May Panera"]
[Site "http://cschess.webs.com/"]
[Date "2011.05.19"]
[Round "3.3"]
[White "Brown, Dean"]
[Black "Anderson, Paul"]
[Result "0-1"]
[ECO "B06"]
[PlyCount "57"]
[EventDate "2011.05.05"]
[TimeControl "5400"]
1. e4 c6 2. d4 g6 3. Nf3 Bg7 4. Bc4 Nf6 5. e5 Nd5 6.
O-O O-O 7. Nc3 Nxc3 8. bxc3 d5 9. Bb3 b5 10. a4 a6 11. axb5 cxb5 12. Be3 e6 13.
Qd2 Re8 14. Bh6 Bh8 15. Qc1 Qc7 16. Qb2 Bb7 17. Rfe1 Nd7 18. Ra3 Nb6 19. Rb1
Rec8 20. Ba2 Qc6 21. Qb4 Rc7 22. c4 dxc4 23. Bxc4 Nxc4 24. Ra2 Qe4 25. h3 f6
26. Re1 Qd5 27. Raa1 g5 28. Rad1 Kf7 29. h4 0-1
This Week In Chess
On May 24th, the CSCC had 5 members in attendance.  The participants played in a  Round-Robin tournament (RR, G10).  Here are the results:
Score, Player
2.0 Jeff Fox
1.5 Paul Anderson
1.5 Alex Torres
1.0 Paul Covington