Game Of The Week
This week's game comes from Isaac Martinez, who is in a heated battle for the 2nd quarter Tuesday Night Chess Tour prize ($10 Starbucks gift card).  I ran away with the prize in the first quarter, but Isaac has his eyes on the prize this quarter, even knocking me off with my own opening in the Thematic Swiss and claiming the 1st place points.
Blinded by my brilliance!

We met again at the Wednesday Night Panera tournament on May 22nd.  It was a tough game and easily could have been drawn.  However, Isaac missed a tactic in this position.  It is White to move.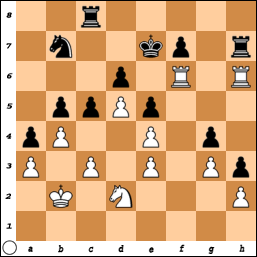 You can see the best move in the game viewer on the home page.  I found the right move and went on to claim the full point.  However, what impressed me most about this game was what occurred after the trade of the final Rooks.  Do you see what I see?  Here is the "left">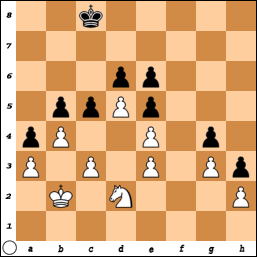 I have captured all of Isaac's pieces before capturing even one of his Pawns.  In fact, I still have all of my Pawns too!  Almost 40 moves without a single Pawn capture by either side.  That has to be some kind of record.
LM Brian Wall has an opening where he sacrifices a piece and keeps all his Pawns (1. d4 Nc6 2. d5 Ne5 3. e4 e6 4. f4 exd5 5. fxe5 Qh4+).  He calls the opening the Full Metal Jacket (FMJ), as the Pawns are like a holster full of bullets.
Well, if it is called a FMJ when one player keeps all his Pawns, then it stands to reason that 2 players trading all their pieces before their Pawns is called a DFMJ.

Double Full Metal Jacket

http://www.chessvideos.tv/chess-game-replayer.php?id=80430

[Event "May Panera Wednesday"]
[Site "http://cschess.webs.com/"]
[Date "2013.05.22"]
[Round "4.1"]
[White "Anderson, Paul"]
[Black "Martinez, Isaac"]
[Result "1-0"]
[ECO "A45"]
[PlyCount "107"]
[EventDate "2013.05.01"]
[TimeControl "5400"]
1. d4 Nf6 2. Bg5 Ne4 3. Bh4 g6 4. f3 g5 5. fxe4
gxh4 6. Nf3 e6 7. Qd2 b6 8. Qf4 Nc6 9. c3 Be7 10. Nbd2 d6 11. e3 h6 12. Bb5 Bd7
13. Rf1 Rh7 14. Ba6 Bg5 15. Nxg5 Qxg5 16. Qxg5 hxg5 17. O-O-O Ke7 18. Rde1 Rb8
19. Bd3 Rg7 20. Be2 b5 21. Bg4 a5 22. Rf2 e5 23. Bxd7 Kxd7 24. Ref1 Ke7 25. d5
Nd8 26. b4 c5 27. a3 Rc8 28. Kb2 g4 29. Rf6 Nb7 30. Rh6 h3 31. g3 a4 32. Rff6
Rh7 33. Re6+ fxe6 34. Rxh7+ Kd8 35. Rxb7 Rc7 36. Rb8+ Rc8 37. Rxc8+ Kxc8 38. c4
exd5 39. exd5 Kc7 40. Kc3 cxb4+ 41. Kxb4 Kb6 42. cxb5 Kc7 43. Kxa4 e4 44. Nxe4
Kb6 45. Kb4 Kc7 46. Ka5 Kd7 47. b6 Kc8 48. Kb5 Kb7 49. Nxd6+ Ka8 50. e4 Kb8 51.
e5 Ka8 52. e6 Kb8 53. e7 Ka8 54. e8=R# 1-0
This Week In Chess
On May 21st, the Colorado Springs Chess Club held a Swiss event.  I went unbeaten in the Quick-rated section to claim the 1st place points.  The unrateds played a Quad with only 4 participants, and newcomer, Scott Williams, went unbeaten as well to take the 1st place points as well.  Here are the results:
Score, Player:
Quick-rated Swiss (3SS, G20):
3.0 Paul Anderson
2.5 Jeff Fox
2.0 Isaac Martinez
2.0 Mark McGough
1.5 Buck Buchanan
1.5 Daniel Herman
1.0 Shirley Herman
1.0 Imre Barlay
0.5 Dean Brown
0.0 Kevin Kaaoush
Unrated Quad (RR, G15):
3.0 Scott Williams
2.0 Mike Madsen
1.0 Randy Canton
0.0 Nicholas Wyle
Tuesday Night Chess Tour Cumulative and 2nd Quarter Standings
Current Standings (rank, name, total, quarter): 
1    Paul Anderson    51.00    26.00
2    Isaac Martinez    25.00    20.00
3    Mike Madsen    22.50    15.00
4    Mark McGough    22.25    10.25
5    Koji DelConte    13.50    7.00
6    Alex Torres    13.00    5.00
7    Tim Brennan    12.00    0.00
8    Peter Grigg    11.00    8.00
9    Josh Bloomer    10.50    8.00
10    Jeff Fox    10.25    5.75
11    Dean Brown    10.00    3.00
12    Daniel Herman    9.00    5.00
13    Shirley Herman    7.00    5.00
14    Sara Herman    6.00    2.00
15    Alex Freeman    5.00    0.00
16    Richard Buchanan    4.75    4.75
17    Josh Divine    4.25    4.25
18    Brian Rountree    4.00    0.00
19    Randy Canton    4.00    4.00
20    Scott Williams    4.00    4.00
21    Eugin Pahk    3.00    0.00
22    Joe Polanco    3.00    3.00
23    Tom Richardson    3.00    3.00
24    Anthea Carson    2.00    0.00
25    Mike Wanek    2.00    0.00
26    James Powers    2.00    0.00
27    Wes Smith    2.00    1.00
28    Kathy Schneider    2.00    1.00
29    William Wilken    2.00    2.00
30    Rebecca Herman    1.50    0.00
31    Joe Pahk    1.50    0.00
32    Mike Toth    1.00    0.00
33    Buddy Diamond    1.00    0.00
34    Curits Holsinger    1.00    1.00
35    Evan Baron    1.00    1.00
36    Teppei Monjiyama    1.00    1.00
37    Nicholas Wyle    1.00    1.00
38    Kevin Kaaoush    1.00    1.00
39    Imre Barlay    1.00    1.00