Game Of The Week
This week's game comes from Shirley Herman and her recent strong performance at the Bobby Fischer Memorial.  She has only been playing tournament chess for a little over a year and has already gained over 500 rating points.  Her results at the Bobby Fischer Memorial pushed her to her current peak rating and into the top 20% of female chess players nationwide.  Not bad for a chess mom who is just trying to support her 3 kids' hobby.
2013 Bobby Fischer Memorial - Round 4
I have only played her in Speed Chess (G5), but from what I can tell, she has a very attacking style.  She is always looking for sacrifices and could care less about how much material she has left, if the King is in her sights.  In this position, it is white to move and Shirley finds a nice tactic.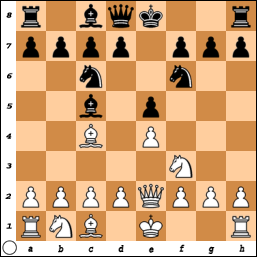 However, she is a stickler for the rules.  If the rulebook says, "The score sheet must be visible during the game," she will pepper the TD with questions:
"Can a player use a cell phone when the rules say sheet?"
"If a player can use a cell phone, can I make a claim if it gets deleted?"

"Can a player use a notebook when the rules say sheet?"
"If a player can use a notebook, can they close the book between moves?"

"Can a player use a pen to obscure part of the score sheet?'
"What % of the score sheet has to be visible before I can make a claim?"
"How long can a player obscure the score sheet while writing his move before I can make a claim?"

So, I decided to check the security footage from the Bobby Fischer Memorial to see if Shirley was following the rules to a "T".  In fact, I did catch her obscuring her score sheet with the clipboard bar during her fourth round game.  I have forwarded the video to the TD for review so that she can be added to the Rule Breakers List all TDs in Colorado are now required to keep.

Bobby Fischer Memorial

http://www.chessvideos.tv/chess-game-replayer.php?id=80180

[Event "Bobby Fischer Memorial"]
[Site "http://cschess.webs.com/"]
[Date "2013.05.05"]
[Round "2"]
[White "Herman, Shirley"]
[Black "Needham, Tom"]
[Result "1-0"]
[ECO "C55"]
[WhiteElo "943"]
[BlackElo "1371"]
[PlyCount "57"]
[EventDate "2013.05.04"]
[TimeControl "40/7200:0/0:3600"]
1. e4 e5 2. Nf3 Nc6 3. Bc4 Nf6 4. Qe2 Bc5 5.
Bxf7+ Kxf7 6. Qc4+ Ke8 7. Qxc5 Nxe4 8. Qd5 Nf6 9. Qb5 Kf7 10. O-O Re8 11. d3 d5
12. c4 Bg4 13. Ne1 Nd4 14. Qxb7 Be2 15. Nc3 Bxf1 16. Kxf1 dxc4 17. f4 cxd3 18.
Nxd3 Nc2 19. Qb3+ Kf8 20. Qxc2 e4 21. Ne5 Re6 22. Nb5 Rb6 23. Qc4 Qd1+ 24. Kf2
Ng4+ 25. Nxg4 Qxg4 26. Be3 Rbb8 27. Bc5+ Ke8 28. Qxe4+ Kd8 29. Qe7+ 1-0
This Week In Chess
On May 14th, the Colorado Springs Chess Club held a Quad event.  The players were split into groups of 4 and paired in 2 Round Robin tournaments.  In the rated quad, Isaac and myself split the 1st place points.  In the unrated quad, Mike Madsen went unbeaten to collect all the 1st place points.  Here are the results:
Score, Player:
Quad results:
USCF-rated (G30)

2.5 Isaac Martinez
2.5 Paul Anderson
1.0 Mark McGough
0.0 Daniel Herman
Unrated (G20)

3.0 Mike Madsen
1.0 Shirley Herman
1.0 William Wilken
1.0 Randy Canton
Tuesday Night Chess Tour Cumulative and 2nd Quarter Standings
Current Standings (rank, name, total, quarter): 
1    Paul Anderson    47.00    22.00
2    Isaac Martinez    23.50    18.50
3    Mark McGough    20.75    8.75
4    Mike Madsen    19.50    12.00
5    Koji DelConte    13.50    7.00
6    Alex Torres    13.00    5.00
7    Tim Brennan    12.00    0.00
8    Peter Grigg    11.00    8.00
9    Josh Bloomer    10.50    8.00
10    Dean Brown    9.00    2.00
11    Daniel Herman    8.00    4.00
12    Jeff Fox    7.25    2.75
13    Sara Herman    6.00    2.00
14    Shirley Herman    6.00    4.00
15    Alex Freeman    5.00    0.00
16    Josh Divine    4.25    4.25
17    Brian Rountree    4.00    0.00
18    Richard Buchanan    3.75    3.75
19    Eugin Pahk    3.00    0.00
20    Joe Polanco    3.00    3.00
21    Tom Richardson    3.00    3.00
22    Anthea Carson    2.00    0.00
23    Mike Wanek    2.00    0.00
24    James Powers    2.00    0.00
25    Wes Smith    2.00    1.00
26    Kathy Schneider    2.00    1.00
27    Randy Canton    2.00    2.00
28    William Wilken    2.00    2.00
29    Rebecca Herman    1.50    0.00
30    Joe Pahk    1.50    0.00
31    Mike Toth    1.00    0.00
32    Buddy Diamond    1.00    0.00
33    Curits Holsinger    1.00    1.00
34    Evan Baron    1.00    1.00
35    Teppei Monjiyama    1.00    1.00
    MAX POSSIBLE    56.00    28.00