Game Of The Week
This week's game comes from the Colorado Closed Challenger.  This event is relatively new and is meant to supplement the long-standing Colorado Closed, where the top six highest rated chess players in Colorado are invited to battle for supremacy.  The Challenger broadens the invitees to the top twelve and offers the best challenger the right to play in the Closed the following year.
I was invited to the Challenger for the first time this year.  I was excited to play, but I was worried that I would not do well.  I had many reasons for my fears:
I was playing 5 experts.
I was the only non-expert in the field (1999).
I had never beaten any of them.
I had only beaten 2 higher rated players since 2010.
I hadn't played in a weekend event in since 2011.
I had to play more as black.
My last 4 losses had come as black.
I had lost 40 rating points since January.

However, I was undaunted.  Even if I was the only participant from Southern Colorado among the twelve best chess players in the state, I wasn't going to let these yankees from the North burn through Manitou Springs without a fight.  With a rebel yell, I cried...

I'm Gonna Play Like I'm 1999!
However, if I was going to have any shot at not getting steam rolled in this event, I was going to have to do some preparation.  So, I called on my good friend and chess author, Tim Brennan of Tactics Time (http://tacticstime.com/).  He sent me a database of 293 games of my opponents (Ramirez, Peterson, Seidler, Hartsook, and Jex)  from his massive collection.  It definitely made a difference.   It turned my poor recent tournament performances this year into what has to be considered my best performance ever.

Of course, Tim is not perfect.  I was panicked about having to face Robert Ramirez when looking at the games Tim sent me from GM Alejandro Ramirez.  Also, it was hard to find a lot of David Hartsook's games, as Tim spells his name Hartsock.  Fortunately, I was paired with Joshua Jex in the first round and got to clear things up with Tim before my last four rounds.

In this position from my game against Joshua Jex, it is black to move.  I had gained a Passed Pawn and was looking for a way to get into a won endgame.  I finally decided to go with a move that I had passed on previously.  See if you can find it.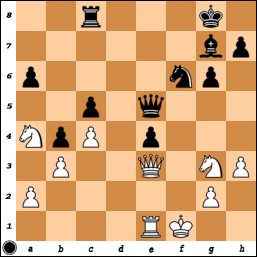 You can click through the game on the home page to see how I finished the game and took the lead in the Challenger.  I failed to hold my lead, but I did tie for 1st place with a couple of experts from the North, Robert Ramirez and Kevin Seidler.  Not bad for lowly class player.

I'm Gonna Play Like I'm 1999

http://www.chessvideos.tv/chess-game-replayer.php?id=78898

[Event "Colorado Closed Challenger"]
[Site "http://cschess.webs.com/"]
[Date "2013.04.19"]
[Round "1.5"]
[White "Jex, Joshua"]
[Black "Anderson, Paul"]
[Result "0-1"]
[ECO "A42"]
[WhiteElo "2005"]
[BlackElo "1999"]
[PlyCount "84"]
[EventDate "2013.04.19"]
[TimeControl "5400+30"]
1. e4 c6 2. d4 g6 3. c4 d6 4. Nc3 Bg7 5. Be3 Nd7
6. Qd2 a6 7. Bd3 b5 8. Nge2 Bb7 9. O-O Ngf6 10. h3 O-O 11. f4 e5 12. f5 b4 13.
Na4 exd4 14. Bxd4 c5 15. Bxf6 Nxf6 16. fxg6 fxg6 17. e5 dxe5 18. Qe3 Rc8 19.
Rad1 Qc7 20. b3 Nd7 21. Be4 Rxf1+ 22. Kxf1 Bxe4 23. Qxe4 Nf6 24. Qe3 e4 25. Ng3
Qe5 26. Re1 Bh6 27. Qxh6 Qxg3 28. Qe3 Qxe3 29. Rxe3 Rc6 30. Rg3 Nd7 31. Rg5
Rf6+ 32. Ke2 Rf5 33. h4 Kf7 34. Ke3 h6 35. Rg4 Nf6 36. Rf4 Re5 37. g4 Ke6 38.
Nb6 g5 39. Rxf6+ Kxf6 40. Nd7+ Ke6 41. Nxe5 Kxe5 42. h5 a5 0-1
This Week In Chess
On April 16th, the Colorado Springs Chess Club held a Swiss event.  Ten players joined the Quick-rated section while four others filled in an unrated quad.  Peter Grigg and I went unbeaten to take home the 1st place points.   Here are the results:
Score, Player:
Quick-rated Swiss (3SS, G20):
3.0 Paul Anderson
2.0 Jeff Fox
2.0 Buck Buchanan
2.0 Jim McKenna
2.0 Mark McGough
1.0 Koji Del Conte
1.0 Isaac Martinez
1.0 Daniel Herman
1.0 Sara Herman
0.0 Shirley Herman
Unrated Quad (RR, G15):
3.0 Peter Grigg
1.0 Mike Madsen
1.0 Dean Brown
1.0 Joe Polanco
Tuesday Night Chess Tour Cumulative and 2nd Quarter Standings
Current Standings (rank, name, total, quarter):
1    Paul Anderson    34.50    9.50
2    Mark McGough    14.75    2.75
3    Mike Madsen    13.50    6.00
4    Tim Brennan    12.00    0.00
5    Koji DelConte    11.50    5.00
6    Alex Torres    11.00    3.00
7    Josh Bloomer    10.50    8.00
8    Isaac Martinez    9.00    4.00
9    Dean Brown    9.00    2.00
10    Peter Grigg    8.00    5.00
11    Jeff Fox    6.25    1.75
12    Alex Freeman    5.00    0.00
13    Daniel Herman    5.00    1.00
14    Sara Herman    5.00    1.00
15    Brian Rountree    4.00    0.00
16    Eugin Pahk    3.00    0.00
17    Shirley Herman    3.00    1.00
18    Josh Divine    2.50    2.50
19    Anthea Carson    2.00    0.00
20    Mike Wanek    2.00    0.00
21    James Powers    2.00    0.00
22    Wes Smith    2.00    1.00
23    Joe Polanco    2.00    2.00
24    Josh Divine    1.75    1.75
25    Richard Buchanan    1.75    1.75
26    Rebecca Herman    1.50    0.00
27    Joe Pahk    1.50    0.00
28    Mike Toth    1.00    0.00
29    Buddy Diamond    1.00    0.00
30    Kathy Schneider    1.00    0.00
31    Curits Holsinger    1.00    1.00
Colorado Closed‏ Results

By Buck Buchanan
COLORADO CLOSED CHAMPIONSHIP
4.0    Brian Wall                2204
3.5    Jackson Chen         2092
3.0    Robert Cousins       2141

2.5    Randy Canney        2238
1.5    Zach Bekkedahl       2165
0.5    Michael Ginat           2238
COLORADO CLOSED CHALLENGER
3.0    Robert Ramirez        2135
3.0    Kevin Seidler            2099
3.0    Paul Anderson          2038
2.5    David Hartsook          2105
2.0    Chris Peterson          2104

1.5    Josh Jex                    2005
SCHOLASTICS CLOSED CHAMPIONSHIP
4.0    Ryan Swerdlin            1915
3.5    Gunnar Andersen      1934

2.5    Brady Barkemayer    1626
2.5    Justin Alter                 1820
1.5    Nabil Spann                1849
1.0    Deanna Alter               1776
SCHOLASTICS CLOSED CHALLENGER
3.5    Luke Stephens            1721
3.0   Peter P Cannici          1570

3.0    Isaac Martinez              1734

2.5    Suhass Narayanan     1764 
2.0    Andy Wu                     1632  

1.0    Cory Kohler                1583