Game Of The Week
This week's game comes from the Colorado Springs Open.  This tournament is held in March and sometimes falls on Bobby Fischer's birthday (March 9th).  I was looking at this game yesterday because it was a rare tournament game I played on Fischer's birthday.  He would have been 69 on Friday, and I figured that I should chose a game with some Fischer connection since he is one of my most watched videos:
Also, I found an old email in my chess account from Tim Brennan about doing a podcast for him on tactics.  I had held off replying to him until I got my tactic notes a little more organized.  Well, I keep putting that off. 
So, I decided to use my newsletter to help me move along the process.  I will be chosing games to illustrate my new method of simplfying the myriad of tactics:  The DROP method.
The DROP method is a way to focus on those key tactics that appear most often and are most successful in chess games and cause a player to drop pieces.  Hopefully, by mastering this method you will drop less material and cause your opponent to drop more.  Of course, this is a work in progress.  So, if you have any comments or suggestions to help develop the DROP method into a simple yet effective way to organize chess tactics, please let me know.

The first idea in the DROP method is Discovery.  Discovery is a chess move that attacks with one piece and unblocks (or frees) another piece for a different attack.  It often occurs with the unblocked piece checking the king where it is called a Discovered Check.  Here is a position where I got caught in a tactical combination that starts with a Discovery and ended when I resigned.  It is white to move.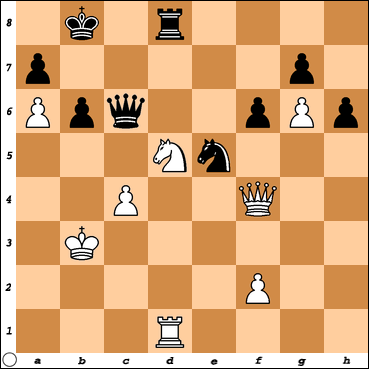 Expert Markus Petters played Nb4 to attack my Queen with his Knight and to unblock his Rook to attack my Rook.  I cannot take his unguared Rook without losing my Queen with check.  I cannot move my Queen without falling into more tactics.  So, I end up dropping my Queen for a Knight.

DROP Method

www.chessvideos.tv/chess-game-replayer.php?id=61139
[Event "Colorado Springs Open"]
[Site "http://cschess.webs.com/"]
[Date "2003.03.09"]

[Round "5.6"]
[White "Petters, Markus"]

[Black "Anderson, Paul"]

[Result "1-0"]

[ECO "B18"]

[WhiteElo "2037"]

[BlackElo "1734"]

[PlyCount "93"]

[EventDate "2003.03.08"]

[TimeControl "40/7200:0/0:3600"]

1. e4 c6 2. d4 d5 3. Nc3 dxe4 4. Nxe4 Bf5 5. Ng3 Bg6 6. h4 h6

7. h5 Bh7 8. Nf3 Nd7 9. Bd3 Ngf6 10. Be3 e6 11. Bxh7 Nxh7 12. Qd3 Qc7 13. O-O-O

Bd6 14. Ne4 Bf4 15. Kb1 Nhf6 16. Nc5 Bxe3 17. Qxe3 O-O-O 18. Nxd7 Nxd7 19. g4

Rhe8 20. g5 Rh8 21. Rd3 Nb6 22. Rh4 Nd5 23. Qd2 Ne7 24. c4 Nf5 25. Rh1 Kb8 26.

g6 f6 27. Rd1 Rhe8 28. b4 Nd6 29. Qc1 Nc8 30. a4 Nb6 31. a5 Nd7 32. Qd2 Kc8 33.

Kb2 e5 34. Nh4 exd4 35. Rxd4 Qe5 36. Ka3 Re7 37. b5 Qxh5 38. a6 Qc5+ 39. Kb3 b6

40. bxc6 Qxc6 41. Rd5 Re5 42. Nf5 Rxd5 43. Ne7+ Kc7 44. Nxd5+ Kb8 45. Qf4+ Ne5

46. Nb4 Qc7 47. Rxd8+ 1-0
This Week In Chess
On March 6th, the Colorado Springs Chess Club held its first Tuesday of the month Speed tournament (2RR, G5).  Eight members joined the event.  I went unbeaten to claim the top spot.  Here are the results:
Score, Player
13.0 Paul Anderson
11.5 Buck Buchanan
6.0 Alex Torres
5.5 Koji Del Conte
5.0 Jeff Fox
5.0 Mark McGough
2.0 Wesley Smith
0.0 Michael LaCombe
New Photos
Photos from the GalaxyFest Sci-Fi convention:
http://cschess.webs.com/apps/photos/album?albumid=13059647
Will the real Paul please stand up?

http://cschess.webs.com/apps/photos/photo?photoid=150871304
Please God, don't let him see the move.
http://cschess.webs.com/apps/photos/photo?photoid=150873896
I refuse to make another move.
http://cschess.webs.com/apps/photos/photo?photoid=150874020
Want To Play A GM?

By Paul Covington

1) Do you find the prospect of [playing] a GM of the caliber of Alex Yermolinsky to be good or bad idea, or are you neutral to the idea?
2) Would you be more likely to play in an event such as the Colorado Open with titled players or less likely?
3) Do you think the participation of outside-the-state titled players diminishes the title of the Colorado Open champion, the highest finishing Colorado resident?
4) Do you think the title of Colorado State champion is more appropriate to the Colorado Open winner or the winner of the Colorado Closed Championship?
Please send replies to   [email protected]